Dwayne Johnson, also known as "The Rock," is a popular American actor, producer, and former professional wrestler. Born on May 2, 1972, in Hayward, California, Johnson comes from a family of wrestlers. His father, Rocky Johnson, was a professional wrestler, and his maternal grandfather, Peter Maivia, was a Samoan wrestler.
Johnson grew up moving frequently due to his father's wrestling career, spending time in New Zealand and Hawaii before settling in Pennsylvania. As a child, he struggled with poverty and moved around frequently with his family. Despite these challenges, Johnson excelled in high school football and went on to play college football at the University of Miami.
After college, Johnson followed in his family's footsteps and pursued a career in professional wrestling. He began wrestling for the World Wrestling Federation (WWF) in 1996 and quickly became a fan favorite, adopting the moniker "The Rock" and becoming known for his charisma, humor, and catchphrases.
In addition to wrestling, Johnson began branching out into acting. He made his film debut in 2001 with a small role in "The Mummy Returns," and later that year, he starred in his first leading role in "The Scorpion King." Since then, Johnson has become one of Hollywood's most bankable stars, appearing in blockbusters such as "Fast and Furious" franchise, "Jumanji," and "Moana."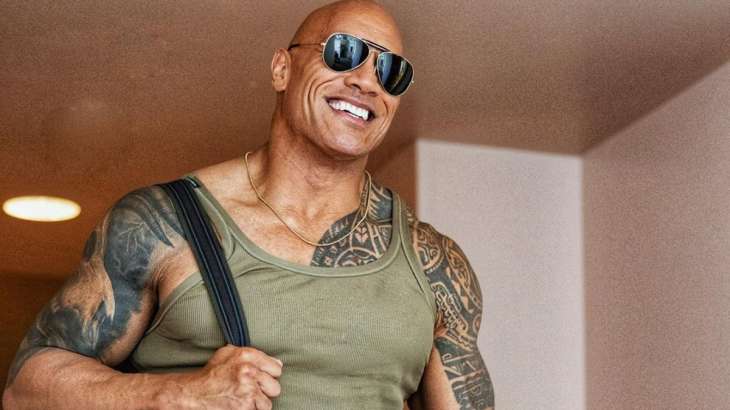 Johnson's appeal as an actor comes from his likable persona, physical presence, and ability to balance action, comedy, and drama. He is also known for his commitment to fitness and healthy living, frequently sharing his workout routines and diet tips on social media.
Aside from his acting career, Johnson has also become a successful producer, founding his own production company, Seven Bucks Productions, in 2012. The company has produced several successful films and television shows, including the HBO series "Ballers" and the film "Jumanji: Welcome to the Jungle."
Johnson's success in both wrestling and acting has made him one of the most recognizable and influential figures in entertainment. He has also used his platform to support charitable causes, including the Make-A-Wish Foundation and the Dwayne Johnson Rock Foundation, which provides resources for at-risk and terminally ill children.
In recent years, Johnson has also been open about his struggles with mental health and the importance of seeking help when needed. In an interview with People magazine, he shared that he had suffered from depression since his teenage years and has sought therapy and support to manage it.
In conclusion, Dwayne Johnson is an American actor, producer, and former wrestler who has achieved immense success in the entertainment industry. His likable persona, physical presence, and ability to balance action, comedy, and drama have made him one of the most bankable stars in Hollywood. Additionally, Johnson's commitment to fitness and healthy living, as well as his support for charitable causes, has made him a beloved figure among his fans. Overall, Johnson's journey from struggling with poverty to becoming one of the biggest stars in entertainment is a testament to his hard work, determination, and resilience.